Pastors and Church Staff
Jerry Jean (Senior Pastor)
---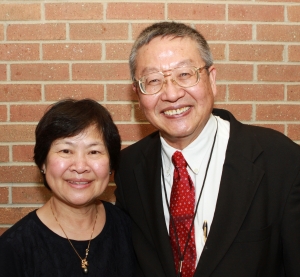 Call Pastor Jean
I met Jesus in 1971, one year after I came to study Chemistry at Marquette University, Milwaukee from Taiwan and shortly after my salvation, I committed to be His disciple. At the same time, God arranged for Sandy, who was from Hong Kong, to come to Milwaukee to be my wife. We have indeed had a good life in the U.S. by the grace of the Lord: with an excellent education, blessed family (wife Sandy, son Matthew, daughter Wenny, daughter-in-law Yulan, son-in-law Ari, and four granddaughters: Lauren, Grace, Joy and Stephanie and grandson Solomon) and loving churches. The Lord has blessed my career more abundantly than I could ever image in my life. In the past over forty years, God has been training me not only as a good scientist and professor, but also to be a good soldier of Christ. During my long, ten-year seminary study and training at Midwestern Baptist Theological Seminary (1992-2002), the Lord called and enlisted me as one of His Christian soldiers as in 1 Tim 6:12. In 2011, I responded to God's calling to serve at this loving church as Senior Pastor. A focused goal of our current objectives is to press forward towards ECBC's Vision 2020 : To become a Christ centered church with 500 plus regular worship attendance by 2020, ministering primarily to the Chinese community. We sincerely welcome you to join your hands and hearts with us at ECBC for the glory of Jesus Christ. God bless you.
His servants,
Jerry and Sandy Jean
Steve Tan (Assistant Pastor)
---
I was born and raised in Malaysia, and I came to Christ at the age of 13. In Fall 1991, I came to Wichita, Kansas for college in Wichita State University. There I graduated with a bachelor degree in mechanical engineering and a master degree in electrical engineering. 1998, right after my graduation, I moved to Kansas City to work as software engineer. I met my beautiful wife, Mandy Hu, here in ECBC and we got married in 2000.
Starting from 2001, the Lord called me to study part-time in Midwestern Baptist Theological Seminary. In 2006, I decided to be a full time student. By the grace of God, ECBC was willing to use me as a minister. I then graduated from MBTS with a Master of Art in Biblical Language in 2008. In 2007, I began to serve in youth ministry. In 2016, I began to preach regularly in our Cantonese service.
Mandy and I have three beautiful children and they are Joseph Tan, Benjamin Tan and Ruth Tan. I enjoy being with young people. I love teaching the Bible and helping people to understand God's word, apply His word in life, live our life with spiritual disciplines and carry out His great commission together.
Brian Tung (Evangelist)
---
I grew up at ECBC since I was child. I came to Christ at this church; I was baptized at this church, and now, I serve at this church!
In 2010, I got my B.S. in Computer Science from the University of Kansas. Afterwards, I began working as a Software Engineer. In 2012, the Lord called me to resign from my position and study full-time at Midwestern Baptist Theological Seminary. In 2015, I graduated with a Master of Divinity. In 2016, I began serving as a full-time evangelist at ECBC.
At ECBC, my ministry primarily focuses on the English and youth ministries. At ECBC, God has given me many opportunities to share His gospel, both near and far, and I hope to be able to continue to carry out His great commission for years to come.
Chien-Wen Chou (Evangelist)
---
George Hsu (Pastor Emeritus)
---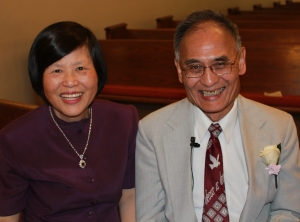 Pastor George C. Hsu was born in Chungking, China in 1943. Later he moved with his family to Taiwan where he was educated and graduated from National Taiwan Normal University with a major in Physics in 1965.
He first heard the gospel at age ten when a classmate invited him to Sunday School of a church near his home. Youth and students pursuits along with his strong interest
in science kept him from becoming a believer. In 1969, when he came to US for graduate study, he started to think about some deeper life issues and became a seeker. One day, alone in his home, he prayed to receive Jesus into his heart as his personal savior and Lord; and became a Christian. He was baptized in the fall of 1975.
He became an earnest Christian and served zealously wherever he lived: Lincoln, Nebraska; St. Paul, Minnesota; Kansas City; and Fort Worth, Texas. A longing to serve the Lord more completely led to the confirmation of God's call and his resignation from the Burlington Northern Santa Fe Railroad Company in 1996. He was invited by the Emmanuel Chinese Baptist Church to be evangelist while studying in Midwestern Baptist Theological Seminary. In the summer of 1999, he graduated from the seminary and was ordained as the pastor of Emmanuel Chinese Baptist Church.
On 2011, he sensed strongly that his work at ECBC has been completed and God has prepared another more suitable man to take ECBC to her next stage of assignment. Under the blessing of all, he retired and handed over the responsibility and privilege of leading ECBC to the current senior pastor Dr. Jerry Jean.
Since his retirement, he has been serving as an itinerant preacher. He goes to the surrounding churches that have no pastor at the moment. He will continue to support ECBC as well as other churches by meeting their needs in whatever the ministry God calls him to do.