Events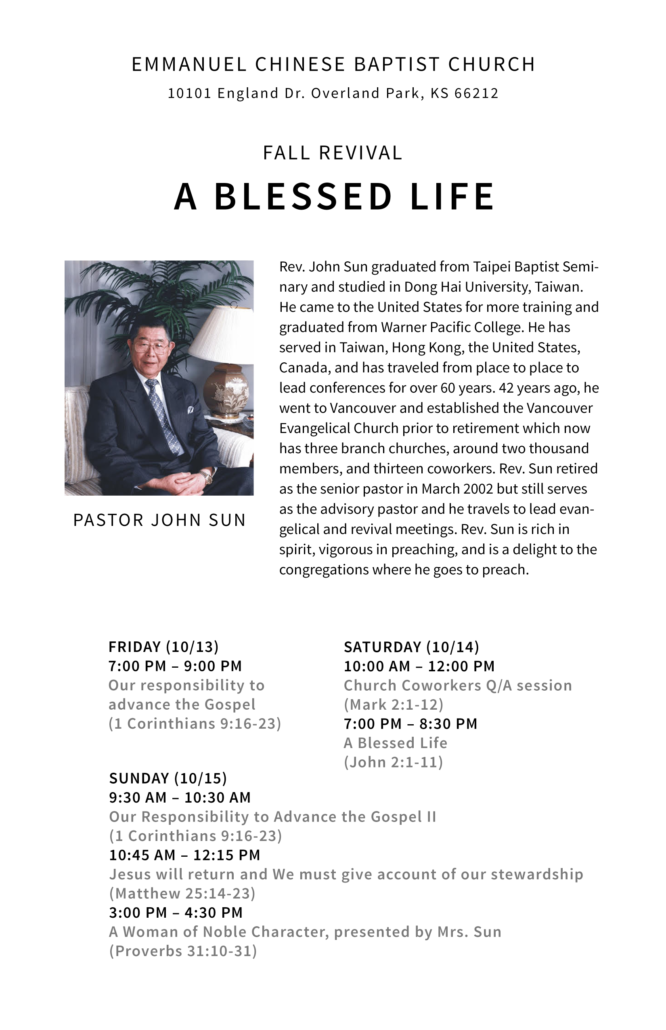 A Blessed Life
Pastor John Sun
Friday, October 13th to Sunday, October 15th
Languages: Mandarin, with English Translation
Friday (10/13)
7:00 PM – 9:00 PM : Our responsibility to advance the Gospel I (1 Corinthians 9:16-23)
Saturday (10/14)
10:00 AM – Noon : Church Coworkers Q/A session (Mark 2:1-12)
7:00 PM – 8:30 PM : A Blessed Life (John 2:1-11)
Sunday (10/15)
9:30 AM – 10:30 AM : Our Responsibility to Advance the Gospel II (1 Corinthians 9:16-23)
10:45 AM – 12:15 PM : Jesus will return and We must give account of our stewardship (Matthew 25:14-23)
3:00 PM – 4:30 PM : A Woman of Noble Character, presented by Mrs. Sun (Proverbs 31:10-31)
Dates: July 7th to 15th
18 Participants: Brian Tung, Dennis Mak, Mike Cheung, Joseph Hill, Grace Tung, Michelle Cheung, Cindy and Wilson Liao, Rachel Zhang, Evelyn and Joseph Cheung, Zach and Caleb Chan, Joseph and Benjamin Tan, Annie Wang, Lauren Tang, Grace Yu.
How Can the Church Help?
Pray for Us

Evangelism and Mission is spiritual warfare. We know that we don't go alone, but with the entire church supporting us.

Give Donations

We need to raise $7,500 for this mission trip.
To make a special offering, please write a check payable to "ECBC" with the memo "AZ YSMP".

Father's Day Breakfast Fundraiser

Date and Time: Sunday, June 18th (8:00-9:15 AM)
We will be serving breakfast on Father's Day before church services. Donations will be collected during this event.

Talent Show Fundraiser

Date and Time: Sunday, June 25th (7:00-9:00 PM)
Please consider performing an act or just coming to attend the Talent Show! Donations will be collected during this event.
Welcome to ECBC Family Fun Day!
Our family fun day is a way for the members of the church, new visitors, and the community to get to know each other and have fun together.
You can expect a range of games and activities that encourage families to have a good time, as well as some tasty snacks!
This community event is open to all and free, so come and enjoy the fun with us!
Attractions
Games and Activities
All throughout our building you will find fun games to play with your family. From tossing games to shooting targets, we have activities for all age groups.
Prizes and Snacks
Participants can earn stickers for scoring points at each game, gather as many as you can and redeem them at the prize room (main office)!
Need to take a break? Stop by the snack room to get some refreshments and snacks to munch on!
Open Times and Special Events
Family Fun Time

Location: ECBC Building
(Parents please stay with your children and play together unless you are watching the short 20 minute movie…see movie time below)
Tug of War and Grand Prize Drawing
Location: Gym
Movie Showings
Time: 3:30 PM
,
4:00 PM
,
4:30 PM
,
5:00 PM
ECBC will be hosting our Vacation Bible School from June 26th-30th, from 6:15-8:30 PM. Free dinner will be provided from 6:15-6:45 PM. We hope that you can find space in your summer to come attend! Please turn in your child's registration form to the front office.
You may contact Brian Tung (Brian.Tung@ecbckc.org) if you have any questions.